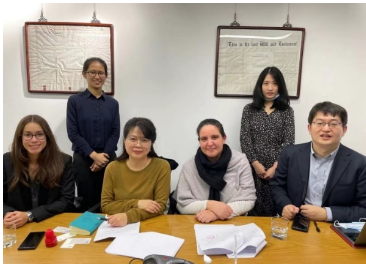 actualités
Press Release : COULEURS DE CHINE PARTNERS WITH SOCF

The NGO Couleurs de Chine, represented by its representative office in Guangxi (China), is pleased to announce its cooperation with SOCF (Shanghai Overseas Chinese Foundation) which will strengthen its charitable causes in Guangxi, China.
The main mission of Couleurs de Chine, created by Françoise Grenot-Wang*, is to promote access to education for young people from ethnic minorities in the Guangxi region. Couleurs de Chine Guangxi representative office is a representative office of Couleurs de Chine, which is officially registered since 2018 in China. SOCF is a reputable charitable foundation with the qualification of public-fundraising, created in 2006 and registered with the Shanghai Civil Affairs Bureau.
« This collaboration is a symbolic step for the future development of our actions to support the education of children in the region, from primary school to university. »
(Jeanne Yin, representative of Couleurs de Chine office in Danian, Guangxi)
Thanks to this collaboration, SOCF will be able to support Couleurs de Chine's charitable causes by the funds it raises or receives in China, especially the funds from corporate sponsors in China who will benefit from a tax deduction. Both Individuals and companies will have access to the payment ways provided by SOCF for their donations and sponsorships.
With the support of SOCF, this collaboration will also broaden the channels for helping from sponsors, through which sponsors can support poor students by donating tuition fees and living expenses.  
The aim of this collaboration is to further promote the education situation in the region of Great Miao Mountains in Guangxi, where Couleurs de Chine has been present for more than 20 years.
« A great collaboration that will develop the organization's tools to help children from the region to choose their own life! »
(The Board of Directors of Couleurs de Chine in Paris)
"We SOCF are very happy to have Couleurs de Chine as a partner of SOCF, which is officially registered as a foreign NGO representative office in China since 2018. We also appreciate Couleurs de Chine's outstanding contributions to provide educational support to minority ethnic students in Guangxi over the past two decades. Now, SOCF and Couleurs de Chine will be able to work together to make their best efforts to provide better education opportunities to minority ethnic students in Guangxi."
*In March 2014, during his state visit to Paris for the 50th anniversary of the diplomatic relations between China and France, President Xi Jinping quoted Françoise Grenot-Wang as one of the French personalities who contributed to the Franco-Chinese friendship.
To go further :